In this report carried out in collaboration with UNIR – International University of La Rioja, an exhaustive analysis is made of all the data published by the Spanish recording industry through PROMUSICAE, and worldwide via IFPI
Revenues from recorded music in Spain grew by 12.43% in 2022, placing it at levels of increase higher than those of the countries around us
The report includes, for the first time, data on exports of Spanish recorded music
The study shows that recorded music is of prime necessity for Spanish society, and that it needs protection, help and support to promote it
The report can be downloaded through the following link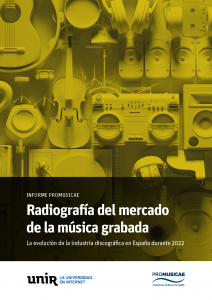 PROMUSICAE has published the second edition of the Radiography of Recorded Music, which collects and updates the data of the recording industry in Spain during 2022 and shows the trends of the same as well as the conclusions and needs of the sector to maintain the growth trend of recent years.
Key data
Recorded music has enjoyed 4 years of sustained growth, which in 2022 has materialised in a 12.43% growth, with revenues of 462 million euros.
Streaming is the real engine of this global growth of the industry, contributing more than 73% of the sector's total revenue.
In Spain, seventeen million Spaniards used streaming audio service platforms in 2022, 5.2 million of them through premium accounts.
An average of 20.9 hours of music is consumed per person per week in Spain, above the global average of 20.1 hours.
In our country, the average amount of money spent on streaming is much lower than in neighbouring European countries.
Recorded music exports contributed 34 million euros to music sales in Spain in 2022, with a growth of 35.1% compared to 2021.
Conclusion
As a priority it remains to work to minimise unauthorised access to music, which in the case of 16–24-year-olds stands at 49%.
Public and institutional support is crucial, so that recorded music can develop its full potential, with access to a fair system of tax deductions, like that already enjoyed by other artistic disciplines; programmes to support the production, marketing, and development of Spanish talent both within and outside our borders, in a current scenario of an explosion of Spanish music coming from outside our country.
It would be very important to have an active internationalisation strategy to take advantage of the opportunity presented by the Latin market, which represents almost 2 billion dollars.
Spain is not lacking in consumption, but rather in the profitability of that consumption, which is why it would be advisable to seek a consumption model via streaming that is sustainable for all parties involved, encouraging premium consumption by the population.
PROMUSICAE ASSESSSMENTS
Antonio Guisasola, president of PROMUSICAE, values 2022 as "the year of consolidation of music in Spanish, which makes this globalisation challenging and enriching, generating new possibilities to explore genres and collaborations that will mark the path to follow in the coming years".
For Guisasola it is crucial "the collaboration of the public authorities to support our companies so that the talent and repertoire of Spanish artists captures the interest of new generations and stands out within and beyond our borders".
The president of PROMUSICAE ends by remarking that "recorded music continues to be the calling card of the artists' creative processes, opening the way to tours, and remaining in the memory of fans" "the moment is good, and we must all work together to make our music a flagship of innovation and quality at a global level".